Give Blood for Sickle Cell Awareness Month
We're supporting the NHS autumn campaign for people from black heritage communities to give blood to support people with sickle cell disorder. See below for more information.
Treatment for sickle cell disorder has improved in the last decade with the use of automated red cell exchange transfusions. These transfusions, however, require between 8 to 10 units of red cells on average, meaning demand for donated blood used for sickle cell disorder treatments is rising.
Without generous blood donations, these treatments would not be possible, negatively affecting people's lives.
People who receive blood transfusions to treat sickle cell disorder need the support of, on average, 100 donors every year.
Sickle cell disorder can be life-threatening, causing extreme pain, stroke, organ failure and blindness, and is in many cases only treatable with blood transfusions.
Many people living with sickle cell disorder require a blood transfusion every four to six weeks, but around half of those transfusions are not currently a best possible match.
This year, we urgently need 12,000 new Black donors to regularly give blood to treat sickle cell disorder. Around half of people of Black heritage have the blood types needed to treat patients with sickle cell disorder.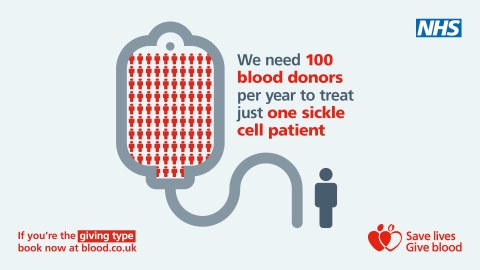 In 1 hour, up to 3 lives can be saved
Giving blood is quick and easy and in 1 hour, up to 3 lives can be saved.
This year, 140,000 new people are needed to join our blood donor community and we need your help to spread the message.
To find out more about the treatment of sickle cell disorder and the importance of Ro subtype blood, please read our new report by clicking here.