Hallelujah Christmas Time (Christmas Single)
The B Positive Choir have released a fantastically festive Christmas single 'Hallelujah Christmas Time'.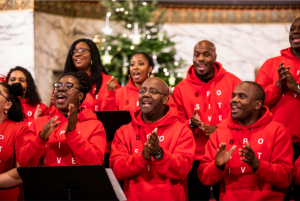 B Positive Choir, as seen on TV, is a choir made up of people from across the UK, some of whom have sickle cell or have family members and friends with sickle cell.
They have been raising awareness of sickle cell and blood donation across the UK and the around the world, most notably with their single 'Rise Up' featuring award-winning Gospel songstress Lurine Cato MBE.
Now they have released a new single, 'Hallelujah Christmas Time' just in time for the festive season. All proceeds from the single will go to support our work and the work of the ACLT (African Caribbean Leukaemia Trust).
The single is available to download and buy on:
©2021 Leopard Music Limited (Music Publishing)
The Song
It was from their performance in Wembley that the songwriter Paul Hobbs decided he wanted the beautiful harmonies and sound of B Positive Choir to sing his newly written song Hallelujah Christmas Time. Needing the NHS to save his life through heart bypass and a fitted stent, Paul's health journey resonated with many of the choir members experiences, and he approached Colin Anderson to arrange the song for a choir. He wanted the song to express the caring & sharing and festive community spirit to be richly expressed through the not just the song itself but also through the life experience of others whose lives had been touched by the thoughts and selfless giving of others.
The Video
The video was recorded at St. Michael's Church in Battersea, London, by kind permission of The Vicar and congregation. At the beginning of December the Choir prepared a Christmas lunch inviting friends and the community. Filming this we thought would be a fitting way of sharing a video message of gifts, decorations, hugs & well wishes of family & friends – the warmest way of sharing the message of love that is Christ at Christmas.
Songwriter: Paul Hobbs 
Paul Hobbs, aged 72, has written several songs over many years and been acclaimed for raising the best part of a million pounds over 26 years through his charity work capped by becoming the first ever person to walk a marathon on a British pier back in August 2021 on Weston Super Mare Grand Pier
"One of my life ambitions to write a popular Christmas song, Hallelujah Christmas Time hit all the right tones of a winner and when I watched B Positive perform at Wembley before the cup final I knew they were made for the song and also very much wanted to continue my charity journey by raising money for their chosen charities Sickle Cell Society and ACLT and hope many give it their support. It has been a privilege and a pleasure being connected through my song to this wonderful talented choir and great group of people" – Paul Hobbs