Malorie Blackman records charity appeal for sickle cell disorder
Award-winning author Malorie Blackman, OBE has joined forces with the Sickle Cell Society to raise awareness of this genetic disorder. On Wednesday, Malorie Blackman visited the BBC studio with representatives of the charity to record a BBC Radio 4 Charity Appeal.
Malorie Blackman has taken time from her busy schedule promoting her new book Chasing The Stars to record the appeal. Malorie Blackman herself is familiar with the disorder, having previously written a book called Forbidden Game, where the main character lived with sickle cell. She will talk about how sickle cell disorder is one of the most common and fastest-growing genetic conditions. It causes pain and life-threatening complications which can be frightening and isolating particularly for children. Malorie Blackman's appeal will explain how the Sickle Cell Society help children affected by the disorder by providing information in schools and taking children on tailored activity holidays.
The charity appeal will air on BBC Radio 4 on 15th May at 7.55am and 9.26pm.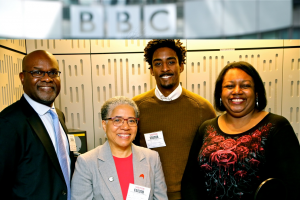 Left to right: SCS CEO John James, SCS patron Professor Elizabeth Anionwu, SCS Fundraising Officer Osama El-Amin and Malorie Blackman at the studio at Broadcasting House
Malorie Blackman, OBE says:
"Sickle cell disorder is an almost-invisible health problem. It can affect anyone but if like me your family heritage is African Caribbean, the risk is higher. I'm delighted to be working with the Sickle Cell Society to raise awareness of this condition and to enable them to keep working with the sickle cell community and others to help change lives. I have seen the unique challenges faced by children with sickle cell and I hope that people will listen to the appeal on May 15th and help the Sickle Cell Society ease the pain."
John James, CEO of the Sickle Cell Society says:
"The Sickle Cell Society is incredibly excited to have teamed up with Malorie Blackman. Many of the children we've worked with over the years have been fans of her writing and we keep copies of Forbidden Game for children with the disorder to read and see themselves represented! The Sickle Cell Society is a small charity, and it can be hard to make our voice heard. Malorie Blackman speaking on our behalf will help to change that."
Malorie Blackman at Broadcasting House