Sickle Cell Society Announced as one of the Mayor of Brent's Charities of the Year
On Wednesday 1st May, newly elected Brent Mayor, Cllr Ernest Ezeajughi, announced his two charities of the year at the council's Mayor Making Ceremony.
Cllr Ezeajughi became the First Citizen of Brent last Wednesday at the Annual Meeting of Brent Council's Mayor Making Ceremony which took place at Brent Civic Centre. At the ceremony he also announced the two charities he will be supporting throughout his year in office: the Sickle Cell Society and the Jason Roberts Foundation.
The Sickle Cell Society has a long history in the borough of Brent with their main offices located in Harlesden. First set up as a registered charity in Brent in 1979, the Sickle Cell Society has been working alongside health care professionals, parents, and people living with sickle cell to raise awareness of the disorder locally and across the country.
Sickle cell is a cause close to the new Mayor and Council's heart, as the late Brent Councillor, Tayo Oladapo, lived with sickle cell before sadly passing away in 2016. Early this year, with the support of current and ex-councillors, the Society raised funds for a headstone to mark Tayo's grave.
Being chosen as one of the Mayor's charities provides an opportunity to raise awareness of sickle cell, the work the Society does and to raise funds to support the continuation of the support the Society offers.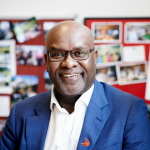 John James OBE (Chief Executive – Sickle Cell Society): "We are delighted to have been chosen as one of Mayor Ezeajughi's charities, particularly as we are celebrating our 40th Anniversary. Although we are a national charity, our roots are in Brent and supporting people living with sickle cell in Brent has always been important to us. We are grateful to the Mayor for this exciting opportunity and look forward to working alongside him throughout the year."