More Black African people can now give blood following major change to blood donation rules
The Sickle Cell Society has teamed up with NHSBT and three other charities to promote new blood, platelet, and plasma donor opportunities for Black donors of African heritage.
Alongside Terrence Higgins Trust, African Caribbean Leukaemia Trust (ACLT) and One Voice Network, we want to raise awareness of a landmark change to blood donation rules, which means is it easier for more people from a Black African heritage to donate.
It is hoped that more people from Black African communities can now give blood because of the removal of rules around a partner's potential exposure to HIV in other parts of the world.
Sign up to be a blood donor here: bit.ly/scsgiveblood
There is currently an urgent need for more Black donors in the UK. Each month 1,300 Black donors are needed to give blood to provide life-saving transfusions. Donated blood from people of Black African and Caribbean backgrounds is needed to provide ethnically matched blood for sickle cell patients. Blood is also needed for use in emergencies, childbirth, during surgery, in cancer treatments and for use in other medical conditions.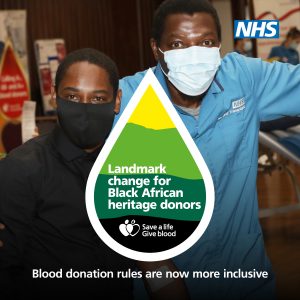 Since December 2021, donors have no longer been asked if their partner has ever had sex in areas where HIV is endemic – which includes most of Sub-Saharan Africa.
Instead, all donors are now asked the same questions about recent sexual behaviours and are eligible to donate if the risk of past or recently acquired infection is low.
This broader change to how eligibility is assessed initially came into effect in the summer last year and paved the way for a later decision by the Government to remove the question about a partner's past sexual behaviours abroad.
It came after a review of scientific evidence by the FAIR (For the Assessment of Individualised Risk) steering group on the latest epidemiology and risk of infection, which was led by NHS Blood and Transplant and involved patient groups and stakeholder organisations.
NHS Blood and Transplant has already contacted 12,000 people of Black African heritage who were previously deferred, and who may now be eligible to donate blood to notify them of the change.
The social media campaign will continue to reach out to more people from Black African communities to raise greater awareness of the change, reaching tens of thousands of engaged people from the Black African community through a partnership with ACLT, One Voice Network, Sickle Cell Society and Terrence Higgins Trust.
Tracy Williams, Blood Donation Lead at the Sickle Cell Society, said:
"The importance of a readily available supply of ethnically matched blood to treat people with sickle cell cannot be underestimated. Blood from people with the same ethnic background is vital to keeping those most severely affected by sickle cell alive and well, enabling them to lead fulfilling lives and pursue their goals.

The Sickle Cell Society's Give Blood, Spread Love project welcomed the removal of the rule preventing anyone with "a partner who has been sexually active in parts of the world where HIV/AIDS is very common" such as "most countries in Africa" from donating blood for a period of three months. In reality, the "three-month deferral period" meant that many potential Black African donors, and others in long term relationships, were permanently prevented from donating lifesaving blood and plasma.

Through Give Blood, Spread Love's work engaging Black communities on the topic of blood donation, we have frequently met people who have been unable to donate blood due to this rule. We know how important securing trust from Black communities is when asking people to donate, and we are hopeful that this significant and overdue change will encourage more potential Black-heritage donors to come forward, and that the 12,000 people previously prevented from giving blood will recognise this call to action and restart their blood donation journey." – Tracy Williams, Blood Donation Lead at the Sickle Cell Society
Sign up to be a blood donor here: bit.ly/scsgiveblood
Find out more about the Give Blood Spread Love project here: www.sicklecellsociety.org/blooddonation/
Or follow them on Instagram @givebloodspreadlove