Tayo Oladapo Memorial Service
It's three years now since we had the shock of the late Councillor Tayo Oladapo's untimely death aged 34. Thanks to wonderful supporters we have been able to raise funds for a headstone to 
mark his grave in the Paddington Old Cemetery for family and friends to remember his life and his contributions to LB Brent and beyond.
Tayo will be remembered during the prayers at an upcoming Mass.
Mass Service
30th March 2019 • 12:00 – 13:00
Sacred Heart of Jesus, Quex Road, Kilburn London, NW6 4PS
Followed by a gathering at the gravestone:
Old Paddington Cemetery, Willesden Ln, Kilburn, London NW6 7SD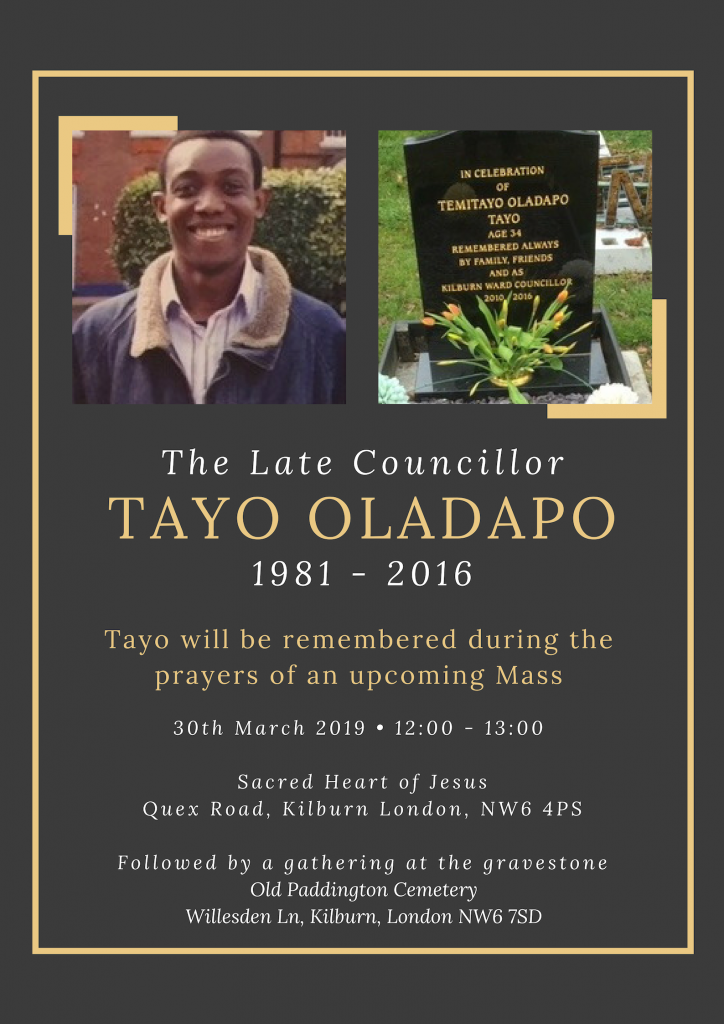 About Tayo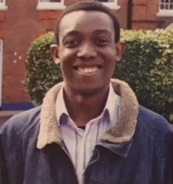 Temitayo Oladapo, born 7th March 1981, studied at Kingston University and was aiming to become a journalist when he was selected to stand as a Labour Party candidate for Kilburn Ward, LB Brent in 2008. Bringing political passion and people skills, Tayo helped connect the local party branch with young people in  the community, working closely with the local police as well as housing and other council officers to help improve family lives in Kilburn. Once elected to represent Kilburn in 2010, Tayo worked tirelessly for local people, taking up problems around the Kilburn High Rd and chairing Brent's local Area Consultative Forum while he had by then joined the Civil Service. Sadly he became ill in 2014 and in spite of fighting for his life undergoing a liver transplant, he passed away on 29th January 2016.
With his family living in Nigeria and the USA, the Brent Labour Group helped make funeral and burial arrangements with Co-op Funeralcare. The Sickle Cell Society,  based locally in Harlesden provided the family and friends with expert support and understanding, helping us through difficult times and giving some context to the effects of Sickle Cell Disorder on Tayo's young life. The society also commemorated him as an example of holding public office, albeit suffering from bouts of sickle cell disorder, to help inspire others with the disorder to be aspirational.
The kind donations of supporters have helped to pay for Tayo's headstone along with the Co-op Funeralcare Cricklewood who provided us extra support.