A Tribute to Emmanuel Christian Amuta
Tribute to Emmanuel Christian Amuta
(29 August 2003 – 19 September 2017)
(By Iyamide Thomas –NHS Engagement lead, Sickle Cell Society)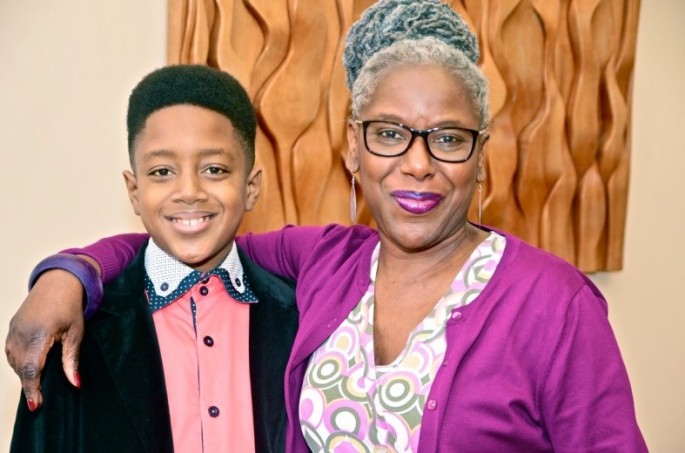 Emmanuel and Iyamide at south London Project launch
The Sickle Cell Society were deeply saddened to hear of Emmanuel's passing on 19th September as he was a very special boy to us not least because he stole the show at our AGM last year and at the launch of our South London Project this February by reciting his poem 'A Beautiful Cell' which inspired so many others living with sickle cell disease.
I first met Emmanuel about six years ago when he and his mum Umu were introduced to me at one of our AGM meetings in Victoria. At that time I was the Society's Regional Care Advisor for South London and they fell into my patch of service users as they were members of the Greenwich Sickle Cell Support Group. Emmanuel created a lasting impression on me that day not only because he was the cutest youngster I had seen for a while but because even at 8 or so years old his caring nature came through when I mentioned to him that he was eligible to go on the Society's annual Children's Holiday. Whilst other boys of his age would have jumped at the chance and not looked back Emmanuel said to me "I can't leave my sister".  (As Nkem does not have sickle cell she was not eligible to go along on the holiday).
It is very difficult to write a tribute for someone taken away at such a young age so I decided to list some of his characteristics and say from my perspective why I think they are warranted.  Quite by coincidence most of these characteristics start with the letter 'C'!
Cute – Well we all knew what a handsome youngster he was and you only have to look at the beautiful and photogenic pictures of him to confirm or look at his beautiful mum.
Caring – He cared about others especially his younger sister hence he would not go on our one week Children's Holiday without her.
Courageous – Emmanuel was living with the debilitating condition of sickle cell and bore it with much courage very often not wanting to make a fuss when he was ill.
Clever – Emmanuel might have only been a youngster but he was much older than his years when you conversed with him. I was in a focus group with him at our AGM in 2016, discussing patient experiences of sickle cell and I can honestly say he contributed much more than some adults in the group! This is why he was always the first youngster I thought about if we needed to recruit young people to a project and he was my first choice for a 'Terrific Teens Digital Video Workshop' scheduled for this half-term. The organisers are still willing to honour him maybe by including some of the video and audio he has made.
Confident – At our AGM he stood in front of 150 or so people and recited his poem 'A Beautiful Cell'. He wasn't nervous and confidently mentioned that it was an old poem but he had since improved on it. One poignant line read: "To me sickle cell is a gift if you have it you shouldn't be ashamed of it' thus trying to remove the stigma so prevalent with the condition.
Charming – Even at such a tender age Emmanuel was a charming young man. When I first visited him in hospital this last time even as he lay in bed gravely ill he whispered "my second best lady in the world".
The last characteristic is one that describes his dress style even for one so young. I couldn't find a word beginning with 'C' but got one close enough – 'Dapper'!  At our South London launch in February he was by far the best dressed man in the house. He and I took a beautiful picture together which I will always cherish.
On behalf of the Sickle Cell Society our deepest sympathy goes to Umu, Chris, Nkem and all the family.  The Society will continue to show you how special he was to us. May he Rest in Peace.