Virtual Children's Holiday 2022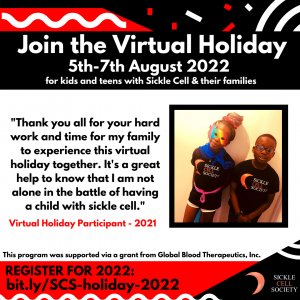 This year we're excited to be running our popular online "Virtual" Holiday again for kids and teens with Sickle Cell and their families holiday.
Running from Friday 5th August to Sunday 7th August, we are inviting around 50 families to take part in a weekend of fun online activities, bringing you the opportunity to learn more about Sickle Cell, make new friends, and connect with other families who have a child, or children with Sickle Cell, all from the comfort of your living room!
The virtual break will bring fun activities, new friends and lots of sickle cell learning straight to your front room! Last year families who attended told us…
"Thank You for this amazing weekend! What a feat pulling this off online so very successfully! Our family had an amazing time and it was valuable in so many ways that I don't even know where to begin! All I can say is thank you!"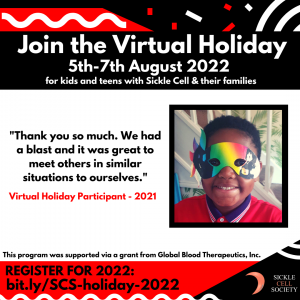 Activities will be designed to be 'just right' for each age group, including education about living with sickle cell and lots of activities to boost wellbeing across the board. Our virtual camp will be hosted via zoom.
Siblings will be more than welcome during the vast majority of activities – we know that they are impacted by their siblings sickle cell too. There will also be 'parent/carer' sessions without the children, and a session specially for siblings to learn about sickle cell and get answers to any questions that they have.
We may be able to offer support to families without internet access who would like to take part.
So what are you waiting for? Sign up to reserve your space here!: http://bit.ly/scs-holiday-2022
This program is supported via a grant from Global Blood Therapeutics, Inc.