£100,000 for new National Lottery funded research led by disabled people living with sickle cell disorder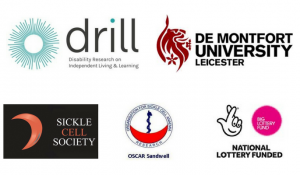 De Montfort University (DMU) in Leicester has been awarded nearly £100,000 as part of a £5 million National Lottery funded research programme into independent living for disabled people.
The 'Barriers and enablers to employment' project will explore the challenges facing people living with sickle cell disorders (SCD) in getting and keeping work.
It will look at the barriers placed in the way of people with sickle cell, and record good practice by employers who make reasonable adjustments to include people living with SCD in the workplace.
The project will develop a best practice guide to employment and sickle cell for use by employers and employees alike.
The research project has been awarded funding from the DRILL (Disability Research on Independent Living and Learning) programme, a five year scheme launched in 2015 led by disabled people and funded by the Big Lottery Fund, the largest funder of community activity in the UK.
Managed by De Montfort University, the project will be led by people living with SCD from two sickle cell organisations. The Sickle Cell Society and OSCAR Sandwell will be working alongside DMU academics in conducting the research and influencing policy makers.
Evan Odell, DRILL programme officer at Disability Rights UK said:
"We're delighted to be funding this project, run by and for disabled people. The results will help support disabled people to live more independently, and be part of the communities they live in."
Professor Simon Dyson of DMU said:
"We have heard of employers refusing even to consider employing people with SCD; whilst others with SCD have reportedly been assigned to work tasks dangerous to their health. We need to understand what stops people with SCD being able to live and work independently."
John James of the Sickle Cell Society added:
"The Sickle Cell Society and De Montfort University have a long standing partnership. At the Society we are dedicated to removing the barriers to employment which people living with sickle cell face. Employment troubles make up a large number of calls to our helpline but this research will help us develop evidence on how best to help."
Sadeh Graham, a person living with sickle cell from OSCAR Sandwell said:
"From my experience, employment and sickle cell rarely exist together. As a person living and trying to stay employed with sickle cell, this project will give myself and others with SCD the tools and confidence to get and keep jobs."
Launched in 2015, the DRILL programme is fully funded by the Big Lottery Fund and delivered by Disability Rights UK, Disability Action Northern Ireland, Inclusion Scotland and Disability Wales. DRILL is funding more than 30 research and pilot projects over a 5 year period, all led by disabled people.