BDB MEEETS IMARA to talk about IMR-687.
On Sunday 3rd June 2018 , Breaking Down Barriers facilitated an information day with Imara, for their new sickle cell disorder treatment called IMR-687.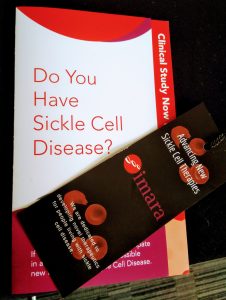 Imara are currently looking for 54 patients worldwide to take part in this Clinical trial for which 18 space have been allocated to patients on Hydroxyurea.
To be eligible you must meet the following criteria;
Be aged between 18 and 50 years old
Have Sickle Cell Anaemia
Have not been admitted to the hospital overnight more than 3 times in the last year
Not require frequent transfusion
Not be pregnant
For more information about this or to take part in this clinical research please do not hesitate to contact Yemi at yemi.adelaja@gstt.nhs.uk.- Who is based at Guys' and St Thomas'.
Overall, the event was a great success as lots of service users attended and were able to ask lots of relevant questions about taking part in this study. – See the video below
Here are some photos of the day;
For any more information please do not hesitate to contact me me at Linda.chic@sicklcellsocirty.org