Christmas Shopping
This Christmas, why not raise FREE donations to support our work when you do your Christmas shopping online?
With Christmas coming up, and future lock downs unknown, more and more people this year will be avoiding the high-streets and shopping online.
Christmas is an expensive time of the year, so you may not be thinking about donating to charity, but we want to show you a few options where you can raise donations, at no cost to you, with all your Christmas shopping.
Find the option that is right for you below:
Amazon Smile
Amazon donates 0.5% of the net purchase price (excluding VAT, returns and shipping fees) of eligible purchases to the charitable organisation of your choice.
AmazonSmile is the same Amazon you know. Same products, same prices, same service, but you can raise money to support our work. Set up via the link below or by turning it on in your app settings.
---
Easy Fundraising
Raise donations to support our work whenever you shop online with Easy Fundraising. Over 4,300 shops and sites will donate to support our work at no extra cost to you – so you can raise donations when you buy gifts, decorations, your festive food shopping or anything else!
---
Give As You Live
With Give As You Live, you can shop at over 4000 stores through their handy app or web browser. Click on a store you want to shop with and they'll direct you to the store's website where you can continue to shop as normal. Your purchase will automatically generate free funds for us!
---
eBay for Charity
Whether buying or selling, eBay for Charity is a great tool. There are a whole range of products on eBay which can help raise funds for us. Plus, if you are looking to make money this Christmas by selling on eBay, why not consider selling with eBay for Charity. Donate 10% or more and your item will feature an attention-grabbing charity ribbon—it may even be listed in the Charity Shop. Plus, you reduce your seller fees and enjoy tax savings.
Business Partnerships
If you run a business, big or small, then we would love for you to consider partnering with us this Christmas, by donating a certain percentage of your profits. Check out the businesses below for ideas about how it works. If you are interested, then please email: ainhoa.munoz@sicklecellsociety.org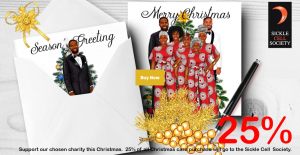 Nsaa Nefateri
Nsaa Nefateri are donating 25% of all Christmas card purchases to support our work.
Check out their beautiful collection of cards and find out more about their fundraising here: www.nsaanefateri.com/