Sickle Cell Cure for Anusjka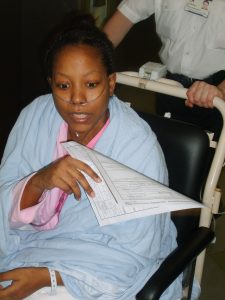 You may or may not know Anusjka but she has struggled all her life with excruciating pain, fatigue, blood transfusions, hip replacements and the fear of sudden death due to sickle cell. There is now a new cure for adults living with sickle cell. It is not funded on the NHS therefore it has to be done privately. We are working with Anusjka to try and raise £55,000 to pay for the this cure. Her sister will be the donor as she is a 100% match. You can donate here: www.gofundme.com/cureforanusjka
Please read on to learn more about her story. Thank you for your support. 
"I'm Anusjka, a wife, a mother, a daughter and a sister who has lived 39 years in excruciating pain and the fear of death due to Sickle Cell Disease. Join me on this fundraising drive to LIVE and not just SURVIVE.
Sickle cell anaemia (sickle cell disease) is a disorder of the blood caused by an inherited abnormal haemoglobin (the oxygen-carrying protein within the red blood cells). The abnormal haemoglobin causes distorted (sickled) red blood cells. The sickled red blood cells are fragile and prone to rupture. This disease is referred to as sickle cell anaemia. The irregular sickled cells can also block blood vessels causing tissue and organ damage, fatigue and pain. This disease can also shorten life expectancy.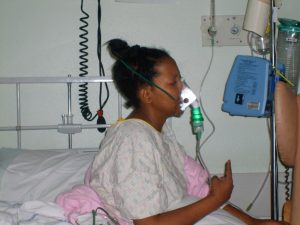 I was born with sickle cell anaemia and have had many death defying experiences in my life. Can I share one of my experiences? I was walking to catch the bus with my friend to attend university and all was well when things changed dramatically. I collapsed suddenly on the side of the street screaming in excruciating pain. It was in Hampstead, London close to the Royal Free Hospital and I was around the age of 22. My friend was in shock, I just kept saying call the ambulance…can you believe that no one stopped to help? Cars just drove right on by…eventually an ambulance arrived and I was taken to the accident and emergency department. The pain was in my spine. I was screaming in extraordinary pain. I think the doctors were caught off guard and really struggled to get my pain under control. It took days to find a combination of analgesia (pain medication) that would control the pain and not cause my respiration to be suppressed to the state that I no longer breath. I did think that I would die! Thankfully I lived to continue to fight and complete my nursing training with many other incidences of excruciating pain and fear splashed throughout the years.
Due to this disease I have had both my hips replaced and although unrelated, I had a tumour in my spine in 2016 which was successfully removed. This meant I had to learn to walk again. I really want to be able to now have the opportunity to really LIVE as the opportunity for a cure presents itself.
There once was no cure for sickle cell but now it is not just a dream, there actually is a cure. The procedure – developed at the National Institutes of Health in Bethesda, Maryland, and validated at UI Health – relies on transplanted cells from a healthy, tissue-matched, full sibling.  My sister has already been tested and she is a 100% match therefore she will be the donor. She is looking forward to being able to give her blood/ stem cells to me and offer me the gift of life.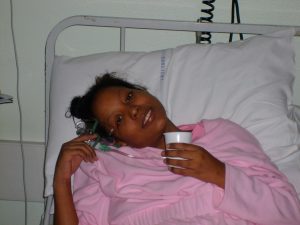 The treatment starts by patients receiving immunosuppressive drugs just before the transplant, along with a very low dose of total body irradiation, a treatment much less harsh and with fewer potentially serious side effects than chemotherapy. Next, the sibling donor – my amazing sister's cells are transfused into the patient. Stem cells from the donor produce healthy new blood cells in the patient, eventually in sufficient quantity to eliminate symptoms of sickle. In many cases, sickle cells can no longer be detected.
I am extremely excited about the possibility that one day I may be able to 'LIVE and not just SURVIVE. Tests for stem cell donors have been completed and my sister is a full match! I am therefore now able to go ahead and start the treatment. It is not available on the National Health Service (NHS) in the United Kingdom, therefore it has to be funded privately. Please help me in this effort to raise £55,000.
Sickle Cell Disease is unpredictable. It can cause organ damage and death at any time. It is essential to have this cure as soon as possible. I would be so grateful if you will join me in this fundraising drive to LIVE and not just SURVIVE."
Yours most sincerely…
Anusjka Regis-Etumnu xxx
You can donate here: www.gofundme.com/cureforanusjka