I.W.Y.S: Community Music and Radio Project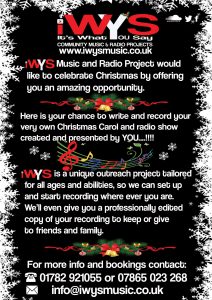 IWYS (It's What You Say) is a community music and radio project founded by Creative Director, teacher and professional Singer/Songwriter & Producer Charmaine Baines.
IWYS Music and Radio Project is tailored to ALL ages and abilities. Participants can create and record their own radio style programmes, introducing them to confidence boosting and engaging activities whilst developing new skills such as radio presenting, script writing, making jingles, singing, song writing, radio and music production.
This is a unique outreach workshop which means whatever the location; the project can be set up to start recording a wealth of topics such as music, sport, art, literature, health, community issues or travel.
IWYS project wants everyone to achieve and succeed so everyone who takes part will receive a copy of their own professionally edited CD and booklet. They can also access their recording at anytime online on the IWYS website and SoundCloud.
For the last 2 years, children with sickle cell have benefitted from iWYS. This year, the children of OSCAR Sandwell produced their very own song and show entitled 'All The Things That I Like' which was broadcasted on BBC Radio WM. The children were also interviewed live in the studio. A copy of their recording, along with other young people who have taken part in the IWYS project was handed to David Cameron in 10 Downing Street at a special Black History Month reception on the 8th October by Charmaine.
You can listen to their creative works here:
Find out more about iWYS here: http://iwysmusic.co.uk/ and www.charmainebaines.com
If you're interested in working with Charmaine Baines to create your own music show, please contact info@iwys.co.uk or Tel: 01782 921055 or 07865 023 268