New research reveals healthcare professionals are critical of health inequities in early diagnosis and treatment of sickle cell disorder
New research from Creation Healthcare reveals healthcare professionals are critical of health inequities and lack of progress in early diagnosis and treatment of sickle cell disorder
Healthcare professionals (HCPs) are using social media to express their frustration at health inequities in the treatment of patients with sickle cell disorder (SCD) while also championing the need for improved care and treatments for the condition.
The findings are reported by specialist digital insights consultancy, Creation Healthcare. Using AI-driven software (Creation Pinpoint), their researchers studied 14,992 English-language SCD related posts on Twitter by 6,459 unique HCP authors between March 2021 and March 2022.
Inequality and patient experience total one-third of sickle cell conversation
The study found that HCPs discussion surrounding SCD often centred around inequality and patient experience, particularly concerning the experiences of those of African descent. In particular, HCPs highlighted issues of institutional racism in the treatment of SCD.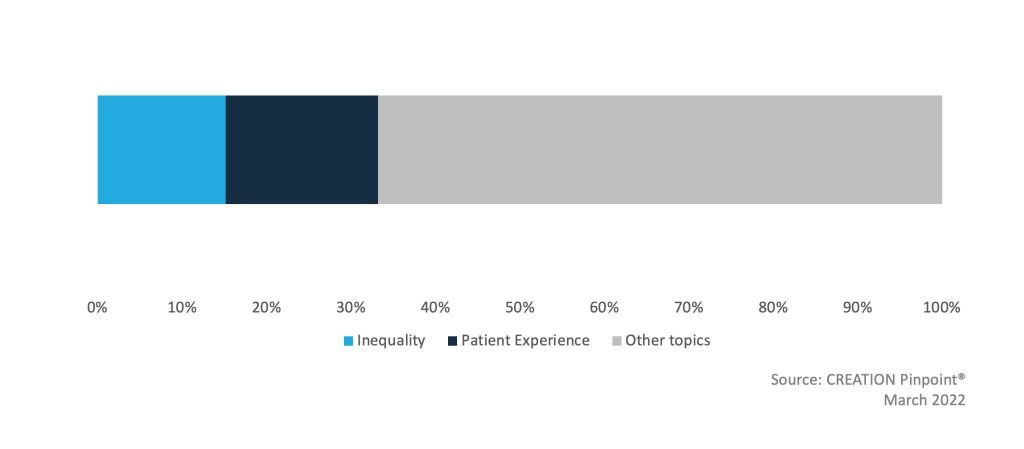 Conversation patterns
The analysis observed variations and patterns in the volume of discussion among HCPs surrounding SCD over the period. World Sickle Cell Day (19 June) drove a significant spike in conversation as HCPs posted about the need for higher quality care and quicker progress in implementing treatments for SCD.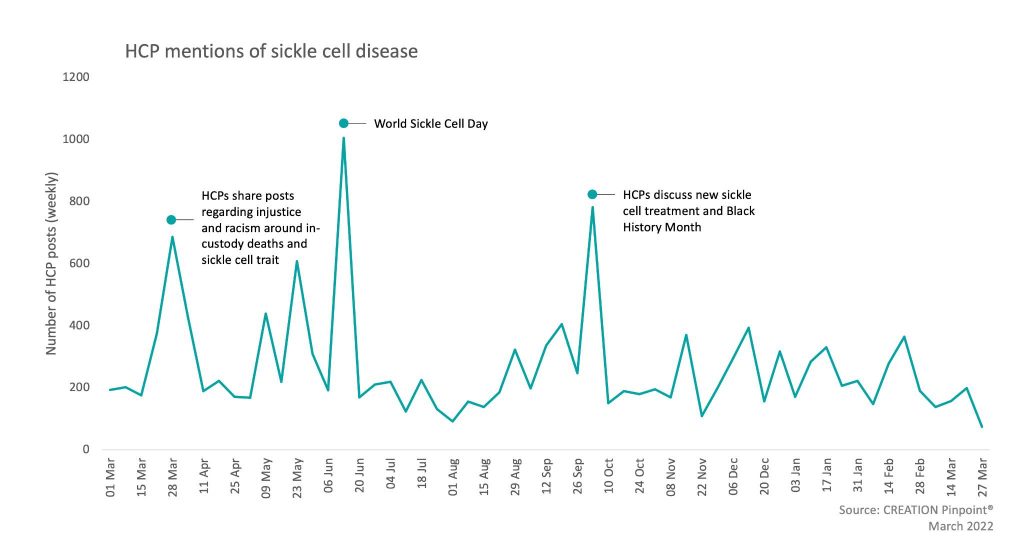 One paediatric haematologist pointed out that for many patients, higher quality compassionate care seemed to many like an unattainable goal, and called for HCPs to fix the issue
Physician and professor, Dr Isaac Odame, meanwhile, called for change in the treatment of SCD, stating that while there are new emerging treatments, implementing early diagnosis and treatment has been too slow.
Opioids misconception
Some HCPs also drew attention to attitudes surrounding the use of opioids by SCD patients.HCPs described a misconception that opioids were a major cause of deaths in SCD patients, citing a PubMed article as evidence to the contrary, and advocated for appropriate pain management for SCD patients.
New treatment hope and existing treatment challenges
The approval of the new monoclonal antibody treatment crizanlizumab – the first new SCD treatment for 20 years – was celebrated by HCPs. One observed how this new treatment had the potential to reduce treatment inequalities for black people.
But, while the release of this new treatment was widely celebrated, others brought attention to the challenge that generic treatment for SCD was still difficult to access for many across the globe.
Commenting on the findings, Francesca Gan, Research Associate at Creation Healthcare who led the research, commented:
"Our research makes clear that HCPs within the sickle cell therapy area are widely concerned with the issue of health inequity being faced by those of African or Caribbean descent across the world.
"This concern centres around a number of areas identified in our research. These range from low quality of existing care, to issues surrounding the speed of diagnosis, to the progress of new and existing treatments, and to misconceptions that are causing black people to not receive adequate pain management and treatment.
"With emerging therapies and louder HCP voices speaking out, there is hope that inequity within SCD will cease and black minorities will receive the treatment deserved in this prevalent therapy area. Creation Healthcare has and will continue to monitor these conversations for the latest in what HCPs think about health equity."
John James, CEO at the Sickle Cell Society said; "We welcome this new research from Creation Healthcare. It reinforces some of the findings from the Sickle Cell and Thalassemia All Party Parliamentary Group's (SCT APPG) recent report; No One's Listening particularly around inequality and patient experience.
"We hope policy makers such as Department of Health and Social Care will take note of this new research from Creation Healthcare, in responding to the APPG report recommendations for urgent change."
For more information about the report visit https://creation.co/knowledge/hcps-show-concern-for-racial-inequity-issues-in-sickle-cell-treatment/