FREE Online conference to focus on nutrition in Sickle Cell care
You may remember that back in March 2020 we shared a call for participants for a Nutrition in Sickle Cell Research Project by Claudine Matthews (a registered Dietitian and Nutrition Consultant in Sickle Cell in the UK). In June 2020 we then shared some of the findings of Claudine's research project.
We now are sharing the world's first Nutrition in Sickle Cell Conference, hosted by Full Circle Fund, an award-winning hospital based Integrative medicine charity, and in collaboration with Claudine Matthews.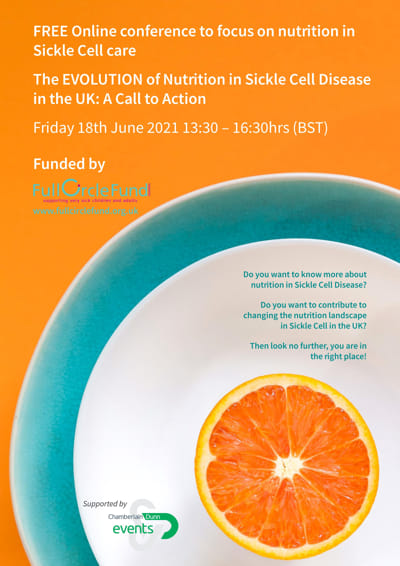 Despite over 60 years of existing research into the role of nutrition in the holistic management of the condition, nutrition is not always integrated into sickle cell healthcare provision. The nutrition landscape in sickle cell is affected by poor knowledge, a lack of awareness and understanding of the role of nutrition, which is amplified by a lack of evidence-based nutritional resources and nutrition services. However, the time for change is now!
For this reason, this FREE online conference to be held on Friday 18th June 2021 13:30 – 16:30hrs (BST) aims to achieve the following:
Provide you with an overview of the existing scientific literature and new research perspectives on the topic.
Recognise the importance of the patients VOICE and their role in changing the nutrition landscape in sickle cell.
Explain the nutritional implications of sickle cell and the need to integrate nutrition into sickle cell healthcare provision.
About Claudine Matthews
Claudine has worked in the NHS as a qualified Dietitian for over 13 years, as a Dietetic Practice Educator and Lecturer and currently works as a Health and Wellbeing Dietitian, in a primary care network. She has expertise in a range of health conditions, and has a special interest in Personal Leadership Empowerment, Behaviour Change, dedicating the last 7 years to pioneering the nutrition landscape in sickle cell disease. Claudine has published a number of articles on the topic and has authored the worlds first National Nutrition Standards for Sickle Cell, commissioned by the Sickle Cell Society. Claudine holds a master's degree in Healthcare Education and Clinical Leadership and is currently in her 5th year of a Professional Doctorate degree, focussing on integrating nutrition into sickle cell healthcare provision.
Who is this conference for?
Haematologists, doctors, clinical psychologists, health psychologists, researchers, nurses, dietitians, sickle cell patients aged 15 years +, and parents/carers of babies or children with sickle cell.
If you are ready for change, then don't delay and book your place on this FREE conference today: www.fullcirclefund.org.uk/free-online-conference-to-focus-on-nutrition-in-sickle-cell-care/