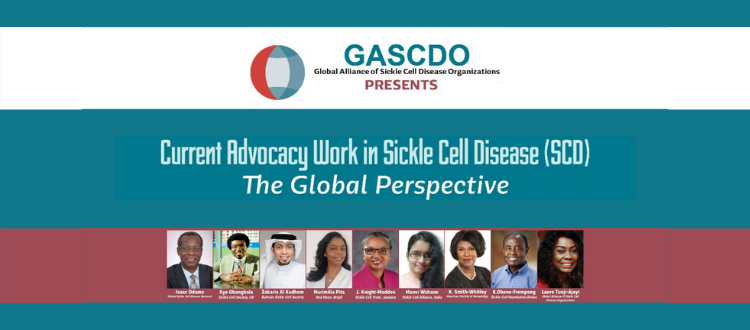 Sickle Cell: The Global Perspective (World Sickle Cell Day Webinar)
On Friday 19th June 2020, the Sickle Cell Society (SCS) celebrated World Sickle Cell Day by joining a webinar to discuss advocacy on a global level. The webinar was hosted by the Global Alliance of Sickle Cell Disease Organizations (GASCDO) of which the SCS is a founding member.
SCS Chair of Trustees, Kye Gbangbola, gave a presentation on the Society's work, discussing the long legacy of patient advocacy and national and international collaboration.
Kye gave information on key projects such as the Screening Programme and Children's Holiday; research and reports including the APPG and Sickle Cell Standards; and patient education events, information and the helpline.
This video shows Kye's presentation, but the event also saw presentations from:
Isaac Odame (Global Sickle Cell Disease Network)
Zakaria Al Kadhem (Bahrain Sickle Cell Society)
Marimilia Pita (Red Moon, Brazil)
J. Knight-Madden (Sickle Cell Trust, Jamaica)
Manvi Wahane (Sickle Cell Alliance, India)
K. Smith-Whitley (American Society of Haematology)
K. Ohene-Frempong (Sickle Cell Foundation, Ghana)
Lanre Tunji-Ajayi (GASCDO)
When available, the full webinar will be available here: https://globalscd.org/
About the Global Alliance of Sickle Cell Disease Organizations (GASCDO)
GASCDO has the belief that the quality of care and treatment for sickle cell should not be determined by where you live; GASCDO will work with National Member Organizations (NMOs), Regional Member Organizations (RMOs) and collaborators to ensure GASCDO is abreast of challenges faced in their communities in order to provide them with effective support.
About the Sickle Cell Society
The Sickle Cell Society is the only national charity in the UK that supports and represents people affected by a sickle cell disorder to improve their overall quality of life. First set up as a registered charity in 1979, the Sickle Cell Society has been working alongside health care professionals, parents, and people living with sickle cell to raise awareness of the disorder. The Society's aim is to support those living with sickle cell, empowering them to achieve their full potential.