Sickle Cell Society Annual Children's Holiday 2014
Announcement! We're currently fundraising so we can have a children's holiday in 2015. Please click here to learn how you can help.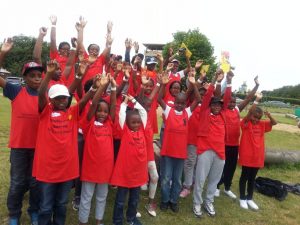 Every year the Society takes a group of up to 30 children aged 7 to 14 years for a week's holiday. The children are nominated by a health professional at the clinic or sickle cell centre that they attend and come from all over the UK. It is funded by grants and donations, and every year it is a challenge to make sure we get value for money whilst still giving the children an exciting time away from home. We aim to give the children a week of fun and games with an opportunity to make new friends. During the week, we also run some educational sessions, talking to them about living with Sickle Cell, teaching them to learn to manage their condition and empowering them to be independent. They learn for example, the importance of drinking plenty of fluids, transition into adults and the medications that they take.
As well as benefitting the children themselves, their parents/guardians also get a well-deserved break from the stress of caring for them and more time for themselves and their other children.
In 2014 the Children's Holiday proved to be yet another exciting week. This time we took 23 children between the ages of 6 and 14 years old to Kings Park in Northampton on 2nd – 9th August 2014. It is a modern purpose-built conference centre with very comfortable en-suite accommodation and good food. During the week we always try to schedule at least two trips away from the centre to places such as theme parks, zoos, bowling, laser games, museums etc.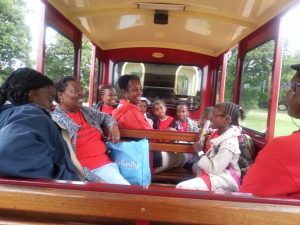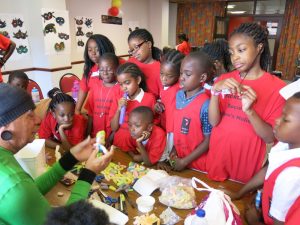 This year we spent a day at Wicksteed Park (a theme park with rides to suit all ages) and an afternoon at the local bowling alley. The trips are always very popular with the children but expensive, so the more donations we receive the more trips we can include. Even while at the centre, the time is filled with plenty of activities to keep the children occupied. We run several Arts and Crafts sessions where they can display their creativeness in activities such as T-shirt painting, glass painting, mask painting, and making bead work key-rings. All of the items are displayed at the end of the week and prizes are given for the best ones voted for by the children themselves. The end of the week also marks the time to hold the traditional Talent Show and Disco. The children practice their acts during the week, including singing, dancing, magic and short plays, and perform them on the last evening before going home, followed by the prize-giving ceremony and Disco.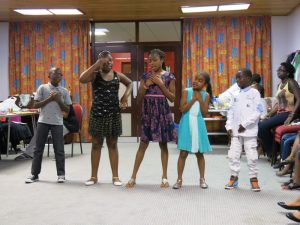 A holiday such as this relies on having committed volunteers who act as carers to the children. Without their dedication and enthusiasm, we would not be able to continue this tradition. We aim to have a ratio of one carer to two children if possible, but this relies on having a large pool of volunteers. Our pool of volunteers also includes nurses and a doctor who make sure the children continue to take their regular medications and are there to treat any (fortunately rare) medical emergencies. We particularly need to recruit more male volunteers and more young volunteers who can act as role models for the children. As the holiday is held during the school's summer vacation, we would also welcome any teachers who would like to join us.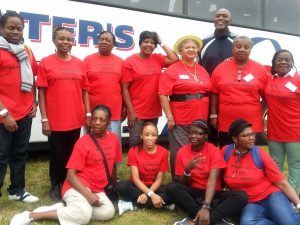 If you are interested in becoming a volunteer carer or would like to send your child(ren) on a future Sickle Cell Holiday, please read about how to apply in the highlighted boxes below. View more photos over on our Facebook!
VOLUNTEERS REQUIRED
Have this article and the photos of the Annual Sickle Cell Society Children's Holiday inspired you to become a volunteer carer for next year's holiday? The carers have just as much fun as the children!
We urgently need to enlarge our pool of adult volunteers to help us …………any age, male or female………….. you are all welcome. The holiday lasts one week but we will welcome anyone who can help for at least 3 or 4 days.
Please contact the society and ask for an application form:
Tel. 020 8961 7795 or 020 8963 7795
Email: comfort.ndive@sicklecellsociety.org
HOW TO APPLY FOR YOUR CHILD(REN) TO ATTEND THE ANNUAL SICKLE CELL CHILDREN'S HOLIDAY
If you would like your child(ren) with sickle cell to have a fun time on our Annual Children's Holiday, please follow these instructions…………
The Society does not accept direct applications. These must be made via your local clinic or Sickle Cell Centre.
Please ask one of the health professionals to nominate them.
Applications are invited to be sent into the Society between April and June 2015