The Societies are engaged again!
By Iyamide Thomas, NHS Engagement Lead, Sickle Cell Society
The Good News
If you are an ardent reader of our Sickle Cell Society newsletters (well the bit where I update you on screening!) you might recall that in April 2016 the NHS Sickle Cell and Thalassaemia Screening Programme ('Screening Programme') commissioned and began a two year project in collaboration with the Sickle Cell Society (SCS) and UK Thalassaemia Society (UKTS).
This 'Engagement Project' was to investigate barriers affecting the timeliness of the offers of screening and Prenatal Diagnosis (PND) so we could determine ways of improving services.  At the end of what was a successful collaboration, the Screening Programme published a new tender in June 2018 for further work. This tender outlined the challenges the Programme was still facing and needed support with. Once again a collaborative approach was needed to understand the reasons for variation in performance by screening providers and ways to improve performance. Engagement and outreach was also essential to ensure that screening service provision continues to be underpinned by service user needs.
Well, the good news is that the Sickle Cell Society and UK Thalassaemia Society bid for the new tender and won, so we must have been doing something right! Our new contract officially started in August 2018 and I will be working to deliver the project with Romaine Maharaj from the UKTS (since Elaine Miller has now left). The tender is expected to be for a period of 3-5 years.
What's Involved
The work priorities for each year will be defined at the start and in Year 1 (i.e. August 2018 to July 2019) these are:
Review and update the 'Sickle cell disease in childhood: standards and guidelines for clinical care' publication which was last updated in October 2010.  Some of you might recall the new and updated adult standards of care for sickle cell being launched in the House of Commons in May 2018.
Updating 'A parent's guide to managing sickle cell disease' a book which parents are given especially when they have just had a child with sickle cell. Parents find this book very useful and some carers have said:
"It helps us to understand the condition better"
"I was afraid but after I read the book, I said ok people are managing it so why don't I"
It gives you guidelines on what to do if you are conversant with it, it reminds you to check baby's temperature"
We will be implementing the findings from the previous year which in this case is supporting the actions and recommendations from our 'Parents' Stories' publication we produced, which documented people's personal experiences of the Screening Programme. The Parents Stories raised a number of issues for the public- which is for you all to present early in pregnancy and that you can contact maternity and specialist NHS sickle cell and thalassaemia screening centres direct when you are pregnant and not just your GP. This is important particularly if you and your partner are carriers of a sickle cell or thalassaemia gene, when you are known as an 'at-risk' couple. Screening health professionals should provide direct access to specialist sickle cell and thalassaemia nurse counsellors to known 'at-risk' couples where available.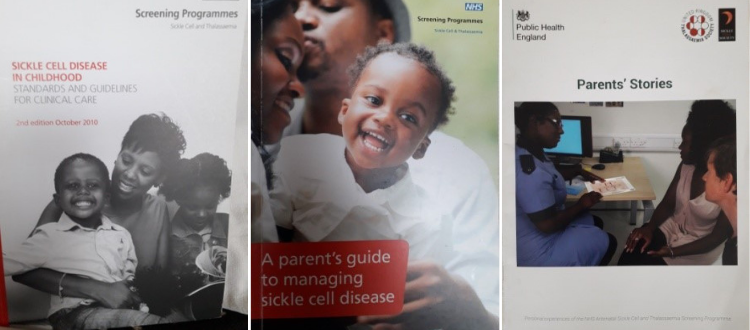 Another work priority this year is for us to Support the Screening Programme in its Newborn Outcomes System (NOS) which is an automated system that supports the referral of babies diagnosed with sickle cell into treatment. The NOS also links to the National Haemoglobinopathy Register (NHR) a confidential database of patients with mainly sickle cell disease and thalassaemia major living in the UK. Our work to support the NOS will be to raise awareness of the system (starting with this newsletter article!) and help families affected by sickle cell to improve their understanding of why data is needed and trust the collection of data both in the case of newborns and also people already living with sickle cell. It is important for individuals with sickle cell and thalassaemia to agree for their clinician to register them on the NHR as information obtained from the NHR helps to secure funds to develop improvements in treatment and patient care in your treatment centre. The information is also essential for healthcare planning, identifying patient numbers and research into improved treatment.
So as you can see Romaine and I have a lot to be getting on with in this first year! Some of our work will involve running focus groups with parents, carers and people affected by sickle cell or thalassaemia so we can get your input. We hope you will agree to help and be part of any feedback we require as only then can we continue to ensure that the NHS Sickle Cell and Thalassaemia Screening Programme and other related service provision is really underpinned by service user needs.