'Help Us, Help You' – A New NHS Campaign
NEW NHS 'HELP US, HELP YOU' CAMPAIGN SUPPORTS THE PUBLIC TO STAY WELL OVER THE WINTER MONTHS
This winter, NHS England and Public Health England are helping the public to better understand what actions they can take to manage their own health and get the best out of their NHS with the 'Help Us, Help You' campaign.
During the winter months, 'Help Us, Help You' will highlight that by following the expert advice of NHS staff, the public can take the right steps to stay well, prevent an illness getting worse, or get well again sooner.
If you are eligible, the best way to help you avoid flu is to have the flu jab, as well as helping the NHS. And this year the flu programme is bigger than ever with 24 million people in England being offered the flu jab.
Older people across the country are being offered a more effective vaccine as part of the programme, which is providing a record 8.5 million doses, free of charge.
The campaign will also help to educate the public on how best to use a number of services:
NHS 111 – you should phone 111 for urgent, but non-life-threatening medical needs where a specially trained advisor will be able to tell you the best course of action
Extended GP hours – appointments with a GP, nurse or other healthcare professional are now available in the evenings and weekends, either at your local practice or another nearby NHS service
Community pharmacies – at the first signs of winter illness or for minor health conditions that do not require a GP appointment, you should visit your local pharmacist, who is a qualified healthcare professional, and could be able to give you something to help more quickly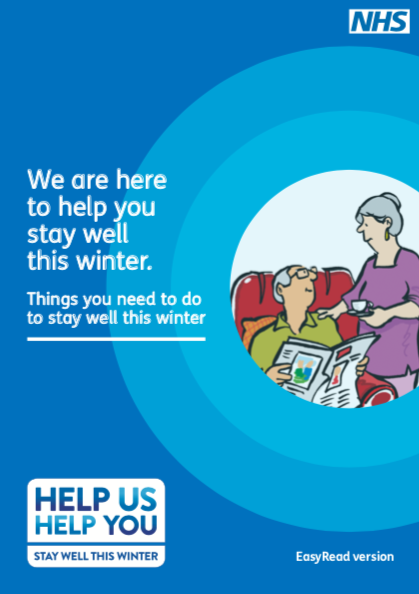 You can read the NHS Advice on how to stay well by downloading their EasyRead guide here.
New research from a survey of 2,000 UK adults has revealed that 8 out of 10 people believe they are responsible for keeping themselves healthy and a further 9 in 10 agree that they could help the NHS by taking NHS advice on how to stay well and making sure as a patient, they use the right services.[1]
The research also showed that 8 in 10 agree that too many people visit A&E when they don't need to and go to their GP when they could get help from the pharmacist. Around 18 million GP appointments and 2.1 million visits to A&E are for self-treatable conditions. Although A&E is there for those who need it in an emergency, alternative services can be better depending on medical needs.
If other NHS services were used correctly across England, it is estimated nearly four in ten visits to A&E could be avoided.
Dr Dawn Harper said: "To ensure every patient who needs it gets the best care possible, it's important that the NHS and the public understand each other, and that's what 'Help Us, Help You' is all about.
It's our job to make sure the public are properly informed about the full range of services available to them, and it's the public's job to make good use of those services when needed. Our hope is that this winter, we can help improve the speed and availability of A&E care for those who truly need it, together."
To find out more about how you can help the NHS help you this winter including leaflets in easy read, audio, large print, BSL and braille visit: www.nhs.uk/staywell
[1] Kantar TNS data. 2018.