#TravellingWithSickleCell – Catch Flights Not Crises!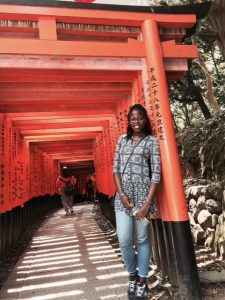 I recently completed my first solo trip abroad, across the oceans, to Japan. I visited a total of five cities in just under ten days. Having Sickle Cell, my trip required careful planning and a lot of self-care along the way.
The biggest challenges for me were getting enough rest (jetlag) and adapting to the changes in temperature (going from extreme heat to cold air-conditioned rooms).
Below I lay out some of my top tips on #TravellingWithSickleCell and Catching Flights Not Crises!
Short/long-haul flights: keep moving whilst on the move. When on the plane or train get up every so often (30minutes – 1 hour) to get the blood pumping and joints moving. I found it particularly helpful to book aisle seats on all modes of transport so that I didn't have to disturb my neighbours to get in and out of my seat.
Pain relief/medication: pack for the best and worst case scenario. You never know when a crisis may hit so ensure you have the pain medication/heat treatment you may need when it gets to that point. Also, it may be beneficial to research healthcare in the area you will be staying in, in case of a medical emergency.
Clothing: take a mixture of clothing to be prepared for all weather. Also note that in hotter countries there will be AC on full blast, in most public spaces, which may trigger you to feel unwell. I combatted this by always having a jumper or scarf in my possession even in the most sweltering weather conditions.
Activities: let people know/only do what you are comfortable with. On the first day I landed in Japan (June 2018), I spent the day exploring Yokohama on foot in the pouring rain. Firstly, it really wasn't what I was into and secondly, it caused me too much pain in my joints to be worth it. I had to alter my holiday plans to accommodate for my health. Find something that works well for you even if that means doing some research and just going solo for a few hours!
Diet: try your best to stick to your normal water intake, and drink more water than usual when in hot places – as we know, dehydration can trigger a crisis.
Contingency plans: organise for a flexible ticket that will allow you to delay or push forward your travels in the event that you are unwell. Also, think about purchasing travel insurance that can cover the costs of an expensive missed trip.
Rest: if you are jetlagged/feel overwhelmed set aside time to rest. I found my trip to be a marathon not a sprint!
Now, time to go forth and #LiveYourBestSickleCellLife!