World Sickle Cell Day 2023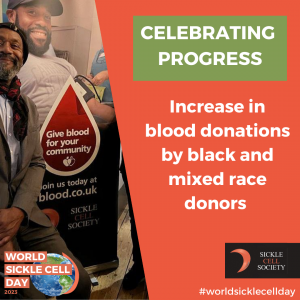 Monday 19th June is World Sickle Cell Day, a United Nation's recognised day to raise awareness of sickle cell across the world.
This year our theme is "Celebrating Progress" and we are celebrating the progress which has been made in recent years in terms of medical advances for people living with Sickle Cell, Improved Standards of Care (No one's Listening) and raised awareness to talk about topics like Priapism.
The Sickle Cell Society supports and represents people, patients and families affected by sickle cell disorder to improve their overall quality of life. Working alongside health care professionals, parents, and people living with sickle cell to raise awareness of the disorder. The Society's aim is to support those living with sickle cell, empowering them to achieve their full potential.
Launch of new Priapism Animation
We're also celebrating the launch of our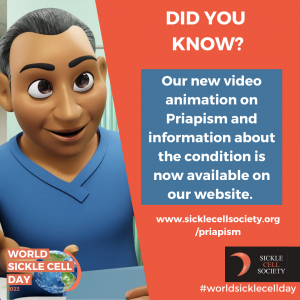 new animation and information page on Priapism. This project is the culmination of a multitude of hard work by SCS and other stakeholders to create a valuable resource for young men who may be experiencing Priapism.
We would love for you to join us and help raise awareness amongst your friends and families.
We have put together ideas and resources, which you can use on and around World Sickle Cell Day 2023.
Interested in fundraising for us?
World Sickle Cell Day is the perfect opportunity to run an event or fundraiser to let people in your community know more about sickle cell and help support those living with the disorder.
We would love to support you in running a fundraising and awareness event. All you need to do is visit our website, fill out the fundraising form and send it to our fundraising team.
The form can be found here: http://www.sicklecellsociety.org/fundraising/
Coming up with ideas can be difficult, so here are a few suggestions:
• Sponsored run, walk, or cycle
• Hold a Come Dine with Me themed evening with your friends
• Organise a quiz night
• Turn £10 into £50  – buy a sponge and bucket to clean 12 of your neighbours cars for £5
Spread the word!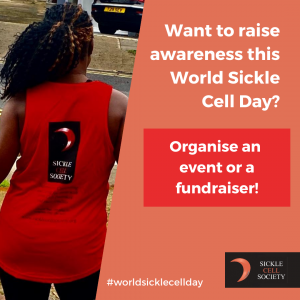 If you are running an awareness and fundraising event or fundraiser, then why not share it with your local newspaper? Local papers love to share what people in their community are doing and it is a great way to raise even more awareness of World Sickle Cell Day. If you would like to speak to our communications team about us sharing your news on our social media channels or in the media please email Clare.rudd@sicklecellsociety.org
Make a difference
Another great way to celebrate World Sickle Cell Day is to make a difference to those who have sickle cell disorder by donating to the Sickle Cell Society.
We rely on your kind donations to keep doing the work we do. Every donation allows us to reach more people, run more activities, and improve the lives of those living with sickle cell.
If you'd like to donate visit www.sicklecellsociety.org/donate/
All social media assets and information to promote World Sickle Cell Day 2023 are available here