Sickle Cell Service Review
Sickle Cell Service Review
The Sickle Cell Society is asking for your views on NHS England's planned changes to short-term and emergency care for people with Sickle Cell Disease (SCD).
You may have already heard about NHS England's plans, which cover how short and long stay admissions to hospital is provided to people with SCD.
The Sickle Cell Society wants to hear as many peoples' views about these changes as possible. We want to ensure that NHS England's plans are understood by everyone affected by SCD, and that any questions or comments you have about the changes are listened to, and receive responses.
Your views are important. They will inform our consultation, enable us to feed back vital information to NHS England, and help shape what happens next.
Below is the document NHS England has produced to explain why they propose the changes, what the changes may look like, and the possible effect on patients. Click on the image to view the document (or click here). Take some time to read through and understand them.
Once you have read through, record and submit your feedback through the online survey below or by visiting this link: Link to Online survey
If you're unable to complete the survey you can email feedback to info@sicklecellsociety.org
We are also running a few events during which we will discuss the changes and give you a chance to feedback. You can sign-up to the events below.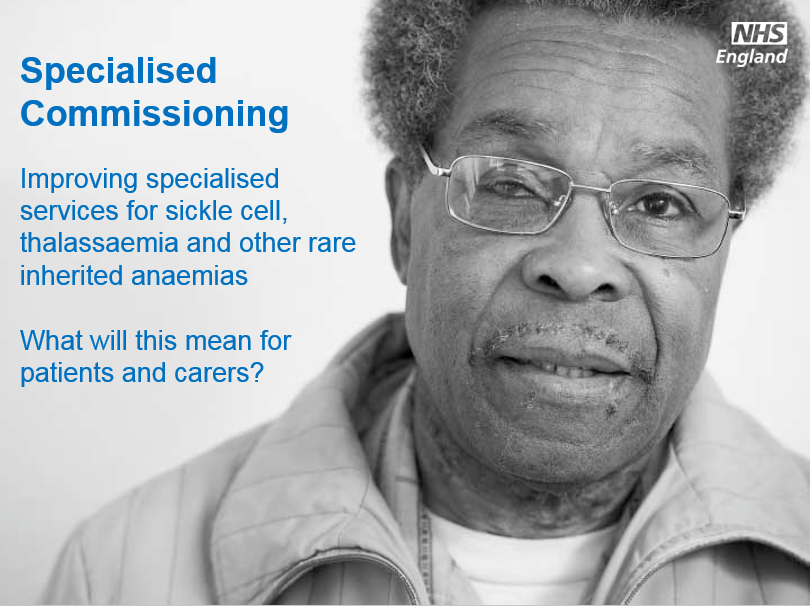 Now you have read through the content please complete the survey below
We will also be hosting three events to further explore your thoughts on the service review. A representative from NHS England will be at each event to explain the planned changes and we will then facilitate time to ask questions and get your input. Please see below for more details about the events.
Online
We will be hosting a Facebook live on World Sickle Cell Day.
Date: 19th June – 7pm-8pm
Watch here (at the above date and time)
Birmingham
We will be hosting an event dedicated to the service review.
Date: 7th July – 12-3pm
Book your free place here
London
We will be dedicating some time to the Sickle Cell Service Review at our AGM
Date: 21st July 2018
Book your free place here