Patient Story: Sam Ovuorie
Sam was being treated for malaria when he was first diagnosed with Sickle Cell disease at the age of five years. He was seen at his local hospital for the first time in September 2007 after he presented with pain in both elbows and his right shin which had started three days before. Sam had a history of multiple crises per year, usually affecting his elbows, ankles, thighs and lower back, his pain was controlled using analgesics including morphine, diclofenac and paracetamol. During a crisis, Sam would normally be admitted to hospital for five days or more which would have a huge impact on him, disrupting his school attendance, academic record and ultimately his quality of life.
Sam was referred to NHS Blood and Transplant's Therapeutic Apheresis team in Oxford for Automated Red Cell Exchange treatment when he was just 13 years old. At this point Sam was suffering with excruciating pain in his joints, walking with crutches and frequently in and out of hospital due to the effects of Sickle Cell crisis. He was unable to lead a normal life and was struggling to attend school.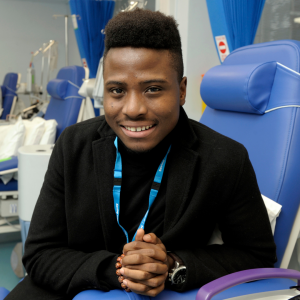 Sam attends the therapeutic unit in Oxford for his treatment every 6-8 weeks. The procedure, which takes about 2 hours, removes Sam's abnormal blood cells and replaces them with donated red blood cells.
Sam is now 21 years old and studying mathematics and economics at University College London. He is very active and enjoys swimming and cycling; last year he climbed Kilimanjaro!
Sam said: "With just six days per year of planned treatment each year, I have had no Sickle Cell crises since starting regular exchange. I used to miss at least ten days of school per month. I have now hiked in Africa in World Challenge, have a completely changed, near normal life and can have high aspirations because I am confident I will be well"
Additional information:
Therapeutic Apheresis treatment uses a cell separator machine to add or remove constituents of the blood, such as red cells, white cells or plasma. A procedure tailored to the patient's needs can treat many other diseases such as cancer and nerve conditions.
NHS Blood and Transplant provide therapeutic apheresis services to adults and children across England. Treatment is provided by teams of expert nurses and doctors who provide both elective and emergency (24/7 365 days per year) treatment to patients. For more information on therapeutic apheresis services or on how to access treatment please visit our webpages: https://www.nhsbt.nhs.uk/what-we-do/diagnostic-and-therapeutic-services/therapeutic-apheresis/
Approximately 60% of all Sickle Cell patients in England require a special type of blood product called Ro subtype. On average, 8 units of blood (adults)/7 units of blood (children) are used to support every Automated Red Cell Exchange treatment. NHS Blood and Transplant are urgently trying to recruit more black donors to support patients with Sickle Cell. One blood donation takes approx. one hour from start to finish and can save up to three lives. If you or your family would like to donate, please visit blood.co.uk